The Library is pleased to invite you to join "Emerald Online Quiz 2020". The quiz covers five easy questions. The answers can be found by searching Emerald's database. (https://www.emerald.com/insight/)

Prizes:

1st prize: SAMSUNG Galaxy Tab A8

2nd prize: Xiaomi Mi Pocket Speaker

3rd Prize: Xiaomi Mi Power Bank 10000mAh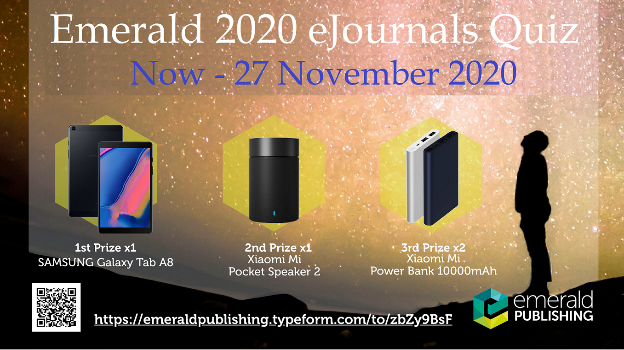 Instruction:

Make sure you are connected to the institution's Wifi. (Off-campus students can access Emerald Databases through AIT VPN.) For more information about AIT VPN, please click on this link http://library.ait.ac.th/2019/04/20/off-campus-access-to-e-resources/

Make use of the hints and look for the answers in the PDF files.
Answer all 5 questions correctly to enter the lucky draw.
The winners will be contacted via e-mail within 1 week after the quiz closes.
The winners will be notified via email.
Competition duration: Now – 27 November 2020
To join the quiz, please click on this link: https://emeraldpublishing.typeform.com/to/zbZy9BsF

Best of luck with the quiz!