To renew book online, please click here.
RENEWALS
Patrons who need to keep an item on loan may renew it by using one of the following methods:
1) In person.
Patrons should bring all checked out items and have them renewed at the Circulation Desk.
Telephone (02-5245851)
E-mail : circulat@ait.ac.th ; library@ait.ac.th
New due dates for renewed items are automatically calculated by adding the patron's normal loan period to the date of renewal, not by adding it to the item's original due date.
Note: items may always be renewed or checked out again unless they have been requested by another user, but consecutive renewals are limited to 5 times.
When an item's consecutive renewal limit is reached, or if at any time a patron wants to reset the number of renewals which reach to the maximum amount, the patron must bring the item to the Circulation Desk and request a new loan, rather than a renewal.
2) Renew online
To renew online, patrons should renew the checkout items one or two days before the material are due and have none of the following:
Outstanding fines in patron records.
Overdue loan at the time of renewal.
Material on hold.
Lapsed membership.
HOW TO RENEW ONLINE
User log in.
Click on "Submit" button.
Click on the link: "…. Items currently checked out".

Select items you would like to renew then click on "RENEW SELECTED ITEMS" button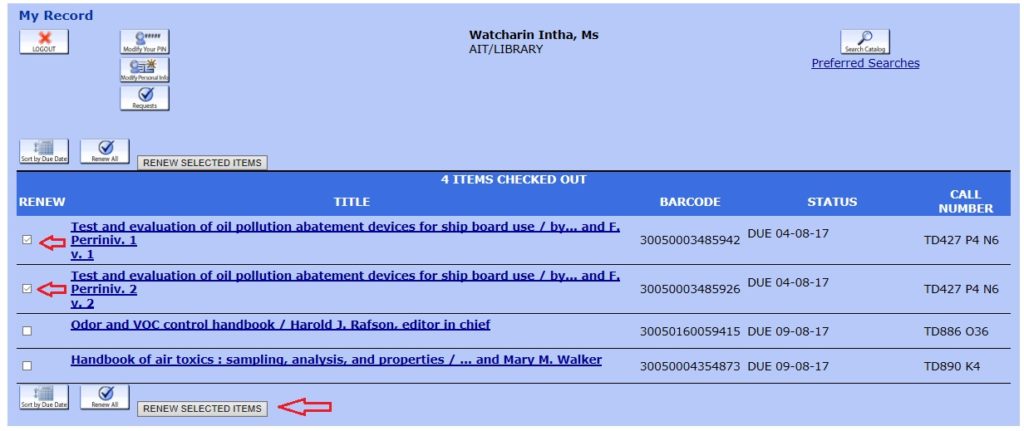 Click on "Yes" button to renew or "No" button to cancel.

Check new due date on "Status Column"