AIT Library User Satisfaction Survey 2022
We would like to invite you to take part in the AIT Library User Satisfaction Survey 2022. The purpose of this survey is to have your feedbacks and opinions on improving the library resources, facilities, and services.

To complete the survey, please click on this link: https://bit.ly/3h6HGGS
The survey is open from now until 30 November 2022.

By completing this online survey, you will be eligible for the lucky draw prizes below.
KFC Gift Voucher 500 (1 prize) 
KFC Gift Voucher 200 (5 prizes) 
MOMAX UV-Pen UV-C LED Sanitizer Portable (1 prize)
Divoom Timebox Evo Pixel-Art Bluetooth Speaker (1 prize)
Hoco M1 Jet Black Stereo Sound Small Talk (1 prize)
Eco-Friendly USB Flash Drive (10 prizes)
Teddy bear (15 prizes)
Mini Handheld Fan (2 prizes)
Paper stapleless stapler (4 prizes)
Springer Nature bottle (10 prizes)
Dropper: Pure People water bottle 450ml (10 prizes)
Portable Alcohol Spray (5 prizes)
Tote bag (7 prizes)
Eco-Friendly clutch bag (10 prizes)
Multi USB Charger (35 prizes)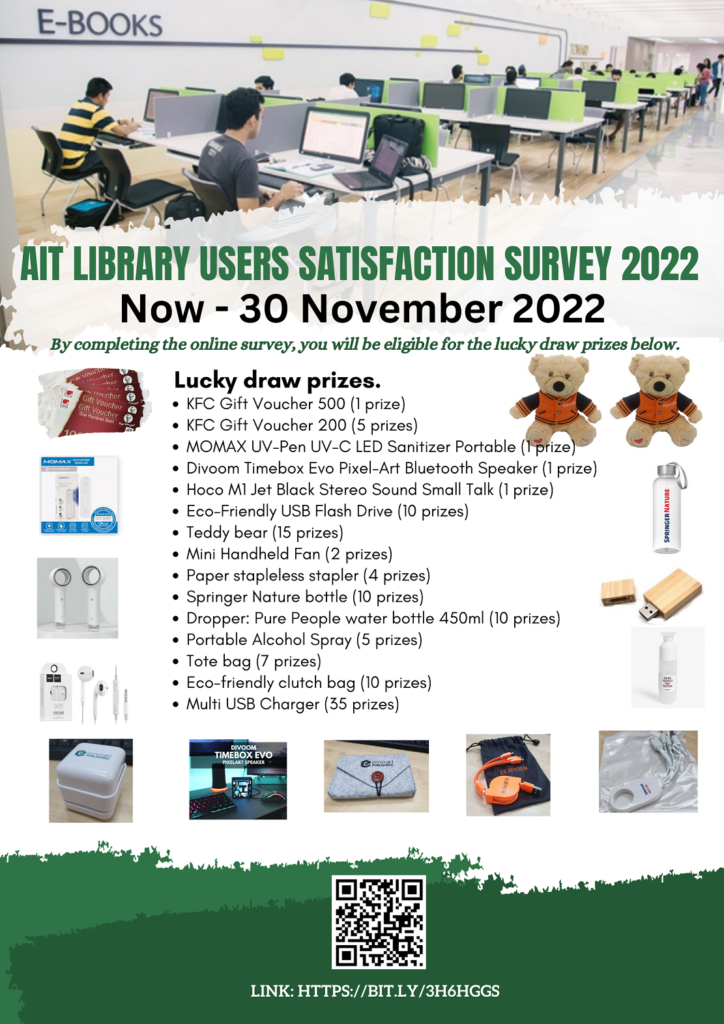 The winners will be announced in the first week of December 2022.

If you have any trouble completing the survey, please contact the Library at library@ait.ac.th.
Thank you in advance for taking the time to complete this survey. We truly value the information you have provided and will use it to improve our Library.